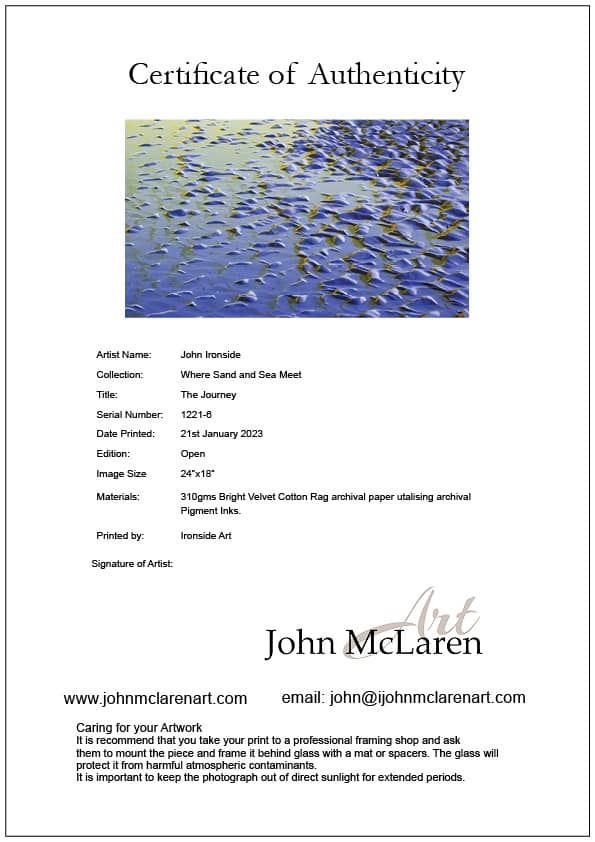 PURCHASING A PIECE OF ART
You may view or purchase your piece of Art through our "on-line Gallery and Store" or by contacting me directly if you have particular custom preferences or personal options or a particular project that will need bespoke commissions. I would love to hear from you.
All our Artworks are individually made to order, inspected and personally signed by me and are supplied with a Certificate of Authentication.
These original Artworks are produced onto the finest archival art papers utilizing pigment ink technologies. These specially selected papers have been selected for their textures that create a subtle and soft visual that is perfect for my Artworks; pleasing to the eye whilst at the same time filling the visual with expression and delight.
Your purchase will be processed and shipped to you within six working days of your order being received and payment cleared.
Size guide:
Payment Methods: For security we use PayPal for all on-line purchases.
SHIPPING AND RETURNS
Shipping Methods: All our orders are shipped with courier / secure post with tracking.
Packaging: Artworks are shipped rolled in a heavy-duty mailing tube.
Delivery: Orders are generally shipped six working days after order is received. You can expect to receive your domestic order approximately one week after you place your order; please allow two weeks for international orders. If there are delays for any reason, you will be notified immediately by email.
Shipping Costs: Costs are zoned by regions of the world and are calculated by size, weight and region. You will be notified of this cost at the time of placing an order at Checkout.
Returns: I hope that you will be very happy with your purchase. In the unlikely event, if when you receive your Artwork it has been damaged in transit, we will replace at no charge to you.
Please contact me by email or phone and let me know how we can help resolve any problem as soon as possible.
Your order includes a money-back guarantee. If you are not satisfied with your purchase, I will accept returns as long as I receive a written request (email or standard mail) within 7 days of your receipt of the artwork.
The Artwork must be returned to me in new condition and in the original packaging within 7 days of your receipt for a full refund.
Refunds will be processed when the returned Artwork has been received here. Shipping fees are non-refundable. Please email with any questions or concerns.
Please email me and include the following information:
-Your name
-The Ref Number of the Artwork(s)
-Date of purchase
-Purchase price (please include a screenshot or photo of the receipt applicable)
-The reason for the return
In the case of artwork damaged in shipping, please include a photo of the damage.
Refunds will be processed when the return has been received. Shipping fees are non-refundable. Please email with any questions or concerns.
CARING FOR YOUR ART
Our Artworks are valuable and should be cared for. I recommend that you take your Artwork to a professional framer and ask them to mount the print and frame it behind glass with a mat. Glass should not come in direct contact with the image area and this is achieved by the mat. The glass will protect the piece from dust, smoke and other harmful atmospheric contaminants. I do recommend an "Art Glass" as this is non-reflective and adds dditional protection from UV rays.
It is important to keep the Artwork out of direct sunlight for extended periods. Fluorescent lights are also harmful and should be as far from the finished Artwork as possible.
NOTES ON FRAMING
All our Artworks are supplied rolled in a tube and we recommend giving the Artwork to a professional framer to mount and frame.
We would be happy to carry out the framing, but you will either need to collect from us or organise your own courier to do so, as we cannot guarantee the protection of the glass in transit.
Copyright
All of our images are protected by Copyright Law. It is an offence to copy, reproduce or display these images without the written consent of the owner, John Ironside, Photographer/Artist.